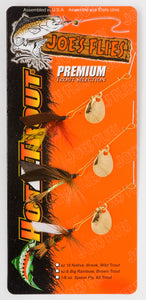 3 Pack - Short Striker Size #10 (ON-SALE!)
SKU #0-26148-01003-9
UPC #0-26148-01003-9
Here is our 3 pack of Size #10 premium flies. Perfect for every fisherman or woman who loves to chase Mountain Trout in streams with ultra-light tackle.
These spinner flies feature a delicate #0 inline spinner and a Size #10 hand-tied fly. Each of the flies included in this 3-pack are outfitted with the signature trailing treble which multiplies the  Hook and Hold to land the Short Striking fish. Ofcourse each feature our "EZ Clip" Spinner which allows you to tie on once and change fly patterns in seconds at the flick of your wrist 
Includes 3 Premium Spinner-flies
Perfect for Ultra tackle.
Proven for Trout.
Inline spinner harness with a delicate hand tied fly. 
Size #0 Colorado blades gold and/or Nickel.
Please Note that the pattern and color of flies and blade finish (gold or nickel) in your pack may vary from those pictured.

shipping usually takes 3-7 business days after purchase
---
---
We Also Recommend